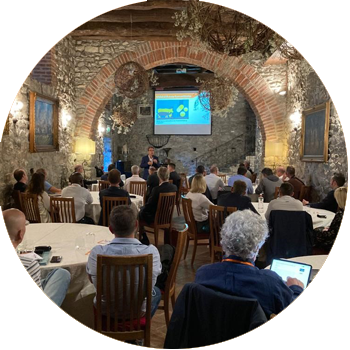 27/09/21
The European Distributor Summit 2021 took place in Northern Italy
Beginning of September, Addcon has been organizing an information exchange with all partners from Europe in Italy.
The aim of the Distributor Summit is to offer a platform to exchange information on latest developments in the company,
regarding prices and most importantly on the markets with each other.
It is important for all participants that the Summit is not a one-way communication tool but it needs to be understood as an
exchange of information and experience between all participants.
One of the reasons, why Addcon has chosen Italy as the destination for the first post COVID Distributor Summit is the fact that Addcon is a part
of the Esseco group of companies based in Italy. The Distributor Summit offered a great opportunity for Kurt Wegleitner,
MD of the Addcon Group of companies to give an update on some of the projects Addcon is working on. The fact that
Francesco Nulli the Director in the Esseco Group and Mr. Andrea Mangiarotti, head of the Industrial Chemicals Division in the
Esseco Group of companies was attending the Summit as well, helped all participants to understand the commitment of Esseco.
From the technical side, both Dr. Christian Lückstädt and Prof. Dr. Andreas Milimonka gave updates on the upcoming
product projects, which will be published very soon.
Addcon gives special thanks to Francesco Corradini (Tecnozoo S.r.l) and Luca Clerici (LCM S.r.l.) for their presentations on
success stories in their markets in Italy and some very impressive local trial results.
As important as the formal presentations have been the more informal side meetings that took place during those days.
The trust and the amicable discussions with all participants have created the right mood to learn from each other.
Addcon is committed to host the next Distributor Summit again next year. The management will discuss all details for the upcoming
summit with the local partners to make sure that also the Addcon Distributor Summit in 2022 will be an equal success.
 Maria Bruder